I'll be answering the diagonal row
(bottom left to top right).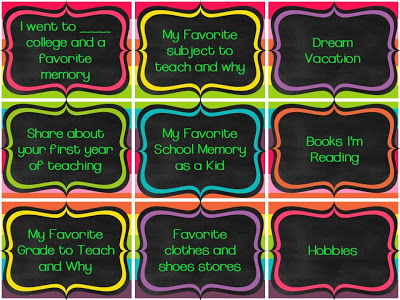 My Favorite Grade to Teach and Why
I love teaching first grade. I'll be starting my 10th year of teaching first grade this fall. I love teaching this age/grade because the students are so open to new ideas and are eager to learn. They are very forgiving and understanding when things I plan don't always go the way I planned them! They are generous with kind words, hugs, and smiles. I tell them each year they're "my kids" for the year, and we spend the year as a family learning and loving our time together. It's an awesome feeling knowing how much these little people impact my life each year!
My Favorite School Memory as a Kid
My 6th grade teacher, Mrs. Tinkle, was just awesome! She loved us and we knew we were loved from the moment we stepped into her classroom. She made learning real for us. We cooked, crafted, sang, chanted...whatever it took to learn our stuff. We even went to her house once to learn about China! She made us all Chinese food and we sat down and ate as a class at her dining room table (plus a few card tables). She was genuine and the real deal!
My dream vacation would be with my husband and two boys to Disney World. I've been a couple of times and so has my husband, but we've never been as a family. I know my kids would love going, and I'd love to take them some day. My youngest son is only 2, so hopefully in a few more years, he'll be old enough to remember and enjoy the trip, and we will get to go then :)